Are you looking for a valid debt elimination plan? Then, the 21 Day Debt Elimination Initiative, created by Nefateria Robinson is what you need to be a part of, for the easiest debt elimination plan. The 21 Day Debt Elimination Initiative is free and the countdown has already begun. There are only a few days left for you to sign up and learn a simple way to eliminate your debt. The program is absolutely FREE!
Know about the plan
It is an initiative which shows that debt elimination can be done by following a simple, step by step plan and gives you all the support you will need during the process.  Do you have a small debt? Do you want to eliminate it? Do you need some hand holding to stay on track?  What if that small debt was paid off? What if you had that extra $100 or even $50 you have been paying on a debt?  What if you could stop saying, "but money" but "money isn't a problem!"? The process will help you start clearing your debts and living the life you want.  But, for that, you need to join the debt elimination program, by submitting your email address and full name.
Learn the ways to bring your finances on track
It is a initiative which you need to join now so, you can start acting on the debt elimination plan, you will get during this initiative.  This is the easiest and most supportive initiative, which you must join to get on track with your financial goals for this year. It is very important for you to realize that the sooner you start a process of debt elimination, the sooner you can start living life without limits. Nefateria Robinson is teaching you A.C.T.; activate faith, commit to your plan, and take action, so you can get your life back.
You can learn ways to invest in your debt
This process includes a complete change in your financial life and you will learn how to find peace and solace in your monetary world. The process will teach you the ways and means of debt elimination. The educational course will also teach you how to manage and build an emergency fund system and maintain your necessary living. This course will help you eliminate and clear a small debt of $500 or less than that. You will be able to clear your debt within twenty-one days for sure.
Author Bio :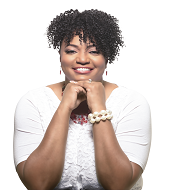 Nefateria Robinson is a Certified Life Coach, who inspires people to A.C.T.; Activate Faith, Commit to a Plan, and Take Action, when it comes to the goals they want to accomplish in life. Her goal is to one day, have helped enough people to have eliminated 1 million dollars in debt. She understands that being able to accomplish the goals we want for our life; require us first having our faith and finances in order, so we can experience true freedom. Start now by joining her FREE 21 Day Debt Elimination Initiative.